We Design Websites that Make You Proud!
---
Website Solutions for Small Companies in Boston MA.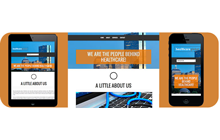 The Skills That Make Us Different
We are skilled web designers and developers based in Everett MA. We have what it takes to create mobile friendly websites and get them to rank high on Google, Yahoo, Bing and other search engines: keep reading...
At GD Web Pros, we like to sit with our clients and explain what they should expect from a professional designed website. We try to understand their goals and explain what we can do to help them achieve those goals by creating a professional website designed and developed according to web standards (and your budget), HTML5, CSS, Java script or using a content management system like Wordpress or Joomla, and using their specific goals as a guide.
It's very common to hear from managers or even business owners to say: "I can do it myself", or "I can get a website for $300.00 or even for free, why should I pay you to build me a website?" to what we have to say: If you wouldn't risk your personal health to an amateur, why should you risk your business health to one?
We are freelance web designers / web developers ready to create professional, functional, and scalable web sites to fit your business needs.
We provide our clients with the technology that let users interact and be able to contribute to the content that can be viewed on social networking sites, web applications, blogs, and other web applications using Content Management Systems like Joomla and Wordpress or HTML5.
We create W3C standards and cross browser compatible websites using web technologies like HTML5, CSS and more.
We develop RESPONSIVE websites (they adjust to mobile devices).
To provide mobile solutions for your small business, we build websites that require strong knowledge of HTML5, CSS, Java script, Jquery, PHP. Also knowledge of cross-browser compatibility problems and solutions .
Responsive websites are websites that provide a better viewing experience for the user. So they do not have to zoom in /or pan around or scroll to read your website's content; everything is designed with the user in mind.
Since websites also became more interactive and social media sites like Facebook and Twitter to mention just a couple, have also became a part of almost every adult life; websites now need to put special attention to the integration to social media.
Graphics Design is a big part of any business website, small or big and at GD Pro Web Designs we understand the importance of having professional graphics on your printed material or your website ( Business Cards, Brochures, Flyers, door hangers, restaurant menus,etc.). Professional graphics say a lot about your small business and we are proficient in Photoshop, Illustrator, InDesign and other graphics software to accomplish what you expect and make your company look professional.
Graphic design goes beyond a professional logo. It says a lot about your small company.
Do it yourself business cards are a great idea when you are trying to save money and you don't care much about what people say about your business or yourself. When you are just trying to get enough work to put food on the table. But, it is not a good idea if you are trying to create an image to build a brand, to build a company with big goals and something that you and future generations would be proud of. Then you need a professional Graphic Designer who understands your goals and ideas and who can transfer that into a great brochure, a logo or great graphics that provide a clear idea on how professional your business is.
At GDProwebdesigns.com we are committed to provide with professional web and graphic solutions that will give a professional presence to your business either online or printed marketing material.
Check out some of our graphics design portfolio and give us a call if have any questions.
Most Small Business Owners give little or not importance to their online presence. Some have a website which only can be found by their actual clients, if their already know the business have a website, by typing the business name on a search engine like Google. Some only have a Face book business page and some others are only listed on online directories. We have had clients who think having a website or being online it's a waste of time and money, because they tried before and it didn't work. That is the reason, GD Pro Web Designs prefers to meet a business owner in person and explain the importance of Organic Search Engine Optimization and Internet Marketing when we are going to create a website for them. We explain the process of creating their website, ask questions about the business key words (those words people are most likely to use when searching for a business or a service provider) and also offer options to optimize their website and market their business locally. We take the time to understand your business goals and proceed accordingly.
If you are a small business owner and tried creating a website before, which at the end did not produce the results you were expecting, contact GDProwebdesigns.com, we will take the time to listen to you and explain what you need to do to get the results you want.
There are several ways to promote your small business: - word of mouth, creating flyers, listing your business in local directories social media and more, much more. But, with the great increase of mobile devices and online browsing for local services, a local small business can not ignore free internet marketing tools like, Face book, Twitter, Linked in, You tube and many more, specially, you can not ignore PPC (Google Pay Per Click Advertising). Google is responsible for more than 70% of searches online, just follow by Yahoo, Bing and Ask dot come.
We have been in business for over 7 years, serving the Greater Boston area, creating Search Engine Friendly websites; providing Affordable Organic Search Engine Services and Internet Marketing services for the small business owners. We understand the challenges of being a small business and we can make sure you don't waste your time or money to advertise your business online any more. Give us a call today Tel (857) 770-1119 or ask for a Free Internet Marketing Estimate HERE now!
We customize and set up Wordpress and Joomla Content Management Systems for your small business. Some times, business owners want to optimize and update their website for themselves and that's why we offer Wordpress and Joomla CMSs, so you can update your website; add new pictures, add new pages or services, add image galleries or a contact form, all with a click of a button or a plug in installation.
Other skills?
We keep updating ourselves, as technology changes really fast. We added to our skills: HTML5, JQuery, Bootstrap, 960 Grid Systems and other web design and development tools.